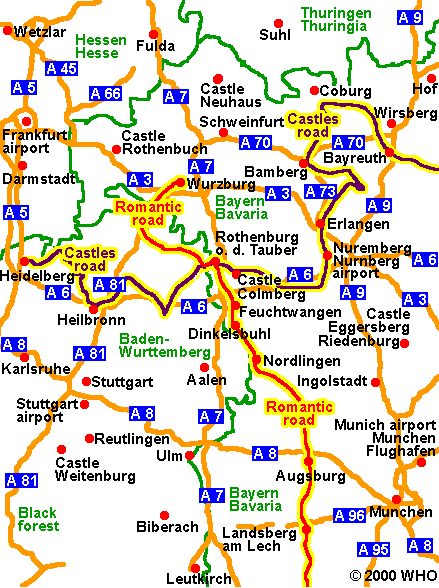 Ansbach train station about 16 km.
Train distance from Munich to Ansbach between 2 and 2 1/2 hours.
Direct railway connetions from Ansbach to:
Aalen, Ainring, Aschaffenburg Hbf, Augsburg Hbf, Backnang, Bad Endorf, Bad Reichenhall, Bad Reichenhall-Kir., Bayerisch Gmain, Berchtesgaden Hbf, Bischofswiesen, Bruchsal, Celle, Chemnitz Hbf, Crailsheim, Dombuhl, Dresden Hbf, Eichstatt Bahnhof, Ellwangen, Freiberg (Sachsen), Freilassing, Fulda, Gemunden (Main), Glauchau (Sachsen), Gottingen, Gunzenhausen, Hamburg Dammtor, Hamburg Hbf, Hamburg-Altona, Hamburg-Harburg, Hammerau, Hannover Hbf, Hannover Messe Laatzen, Heilsbronn, Hof Hbf, Ingolstadt Hbf, Karlsruhe Hbf, Karlstadt (Main), Kassel-Wilhelmshohe, Luneburg, Marktbreit, Marktredwitz, Muhr See, Munchen Hbf, Munchen Ost, Nurnberg Hbf, Nurnberg-Schweinau, Nurnberg-Stein, Oberdachstetten, Ochsenfurt, Pfaffenhofen (Ilm), Piding, Prien Chiemsee, Reichenbach (V) o Bf, Retzbach-Zellingen, Rosenheim, Roßtal, Sachsen (near Ansbach), Schwabisch Gmund, Schwabisch Hall-Hessent, Steinach (near Rothenburg), Stuttgart Hbf, Stuttgart-Bad Cannstatt, Traunstein, Treuchtlingen, Triesdorf, Ubersee, Uelzen, Uffenheim, Waiblingen, Wicklesgreuth, Wurzburg Hbf, Wurzburg Sud, Zwickau (Sachsen) Hbf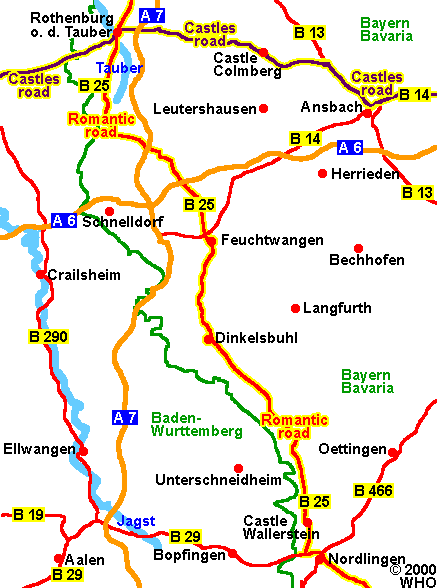 Distances from
the 915-gcol Bed and Breakfast Estate Mid Franconia:
Ansbach 16 km,
Rothenburg ob d. Tauber 18 km,
Bad Windsheim 25 km,
Feuchtwangen 26 km,
Dinkelsbuhl 37 km,
Nurnberg, Nuremberg, Nuremburg 60 km,
Nordlingen 68 km
Erlangen 77 km,
Wurzburg 78 km,
Bamberg 91 km,
Heilbronn 110 km,
Schweinfurt 113 km,
Ulm 141 km,
Ingolstadt 152 km,
Bayreuth 154 km,
Regensburg 170 km,
Heidelberg 171 km,
Augsburg 189 km,
Mannheim 192 km,
Neuschwanstein Castle 243 km,
Kassel 276 km,
Prag, Prague 356 km
airport Nurnberg, Nuremberg, Nuremburg 65 km
airport Stuttgart 168 km
airport Frankfurt 199 km
airport Munchen, Munich 221 km
airport Cologne, Koln 364 km
airport Erfurt 336 km
airport Strasbourg 282 km
.